Market Forecast: FOMC Meeting, Housing Market Index, and Housing Starts and Building Permits
Blog posted On September 14, 2020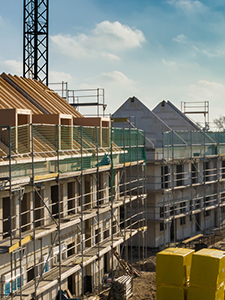 Mortgage rates continued to trend lower last week and remain near the lowest levels in the past twelve months. This week, the Federal Open Market Committee (FOMC) will meet on Tuesday and Wednesday and no major interest rate movement is expected. The National Association of Home Builders (NAHB) will release the housing market sentiment index on Wednesday. Housing starts and building permits are scheduled for Thursday.
The FOMC will meet on Tuesday and Wednesday of this week and is not expected to raise or lower interest rates. This week's meeting will be important because the Fed will be implementing a new approach to monetary policy regarding inflation and the labor market.
The NAHB housing market sentiment index has rebounded from pre-pandemic lows, touching a level of 78 in August. Current sales conditions jumped to 84, sales expectations for the next six months touched 78, and buyer foot traffic reached 65. Any reading above 50 is considered positive. Record low mortgage rates, combined with the need to replenish for-sale inventory has kept home builders busy in recent months. As demand continues to outpace supply, home builder sentiment will likely continue to improve.
Housing starts track ground broken on residential projects and building permits track permits issued. In July, housing starts jumped 22.6% month-over-month to a seasonally adjusted annual rate of 1.496 million. Annually, sales are also up 23.4%. Building permits are also on the rise, increasing 18.8% month-over-month and 9.4% year-over-year in July.
While home building activity typically picks up in the warmer spring and summer months, strong buyer demand might lead to an extended home building season this year. When you choose to build a new home, you can choose the layout and size you want and most of the appliances will come with a warranty. When you choose a move-in ready existing home, you may have to renovate the home to fit your needs, but you can usually move in sooner than if you build your home. If you have any questions about building new versus buying an existing home, let us know.
Sources: CNBC, Econoday, MarketWatch, MarketWatch, Mortgage News Daily, The Wall Street Journal