Preparing for Your VA Loan Purchase
Blog posted On September 03, 2020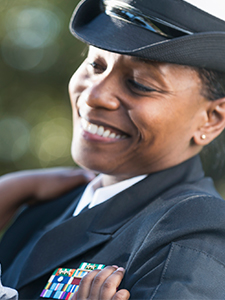 The VA Loan is one of the most important benefits offered to active duty military and veterans. It was designed by the US Department of Veterans Affairs (VA) to give returning World War II veterans an affordable pathway to homeownership because it is available with no down payment and flexible underwriting requirements.
Today, VA Loans are available to active duty military, veterans, reserve members, National Guard members, and surviving military spouses. If you are preparing to buy a home with your VA Loan benefit, here's what you need to know.
Lender Must be VA Approved
To protect our veterans and military personnel, VA Loans can only be issued by lenders approved by the VA, like us. VA approved lenders have experience working with VA borrowers and can guide you through the transaction.
100% Financing Available
In most cases, VA Loans are available with no down payment. You or your lender can order a Certificate of Eligibility (COE) through the VA website. The COE tells the lender how much of the loan the VA will guarantee for its investors (the maximum is 25%). Most of the time, you will qualify for the full amount.
If you have been saving for a down payment, you can put down a down payment savings. Anything you put toward the down payment will influence the cost of the mortgage insurance and the interest rate.
Flexible Credit Scores and Lenient Guidelines
Financial setbacks like debt or even bankruptcy will not bar a qualifying home buyer from using the VA Loan. Minimum credit scores vary from lender to lender, but lenders are generally more lenient when approving lower credit scores with the VA Loan.
Veterans returning from deployments may have financial or credit problems related to missed payments or other instances that occurred while they were away. VA assistance is also available to borrowers in default due to temporary financial difficulty.
Upfront Mortgage Insurance Premium Only
Unlike other government-sponsored programs like the FHA loan, when you finance through a VA Loan will not be required to pay a monthly mortgage insurance premium. In some cases, an upfront mortgage insurance premium is required, but this varies from borrower to borrower.
Refinance and Renovation Options
VA Loans are not limited to new home purchase. You can use the VA Loan for renovation financing or cash-out refinance. Even qualifying homeowners who did not purchase their home with a VA Loan can be eligible for a VA refinance.
Benefit Never Expires
Once a veteran has earned VA Loan eligibility it never goes away. Plus, the VA Loan can be used multiple times, but only for one owner-occupied property at a time. If you purchased a home with a VA Loan and you want to move, you can sell their home, repay the original loan, and finance a new home using your VA Loan benefit.
The VA Loan is one of the most affordable ways to finance a home purchase and a way to help returning veterans establish residency and invest in homeownership. We are VA Loan specialists, so we are familiar with working with VA Loan borrowers. If you have any questions, let us know.
Sources: Mortgage Professional America, VA.gov