Tips for the Ideal Home Office (In Any Room!)
Blog posted On October 01, 2020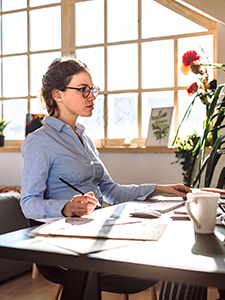 When employees began working from home, everyone set up shop wherever they could — kitchens, dining rooms, bedrooms, or any other rooms with outlets and a work surface. You thought it would just be a couple of weeks, but six months later and your kitchen table is covered with empty soda cans, open laptops, endless pens, loose papers, and more cords than you can count.
We're all dreaming of heading back into the office — but in the meantime, here are five ways to rethink your home office.
Choose your location wisely
Not everyone has a pre-established home office, but there are several suitable options for setting one up anywhere in your home. Choosing the right location will depend on your work needs. If you will be using a lot of electronic equipment, like a computer monitor, desktop, and desk phone, then you will most likely want to be in an area with plenty of desk space and several accessible outlets.
Other factors you may want to consider include your background for video calls and the business of the space. For example, a kitchen counter or dining room table might be better suited for a video call if you have a neutral-colored wall in the background. However, working in a kitchen or dining room during lunchtime might mean more noise and distractions if you live with friends or family. If you have to work in your bedroom, try angling your desk so that your back is facing a wall or closed closet. Avoid having a video background cluttered with dirty clothes or an unmade bed.
Get comfortable
For the average person, work takes up at least half of the day. While a plastic fold-out chair or hardwood stool may have been suitable for your first two weeks of working from home, a more long-term (and more comfortable) solution might be investing in a cushioned and supportive desk chair. If the kitchen island is your preferred work-from-home area, you can alternate sitting on a stool and standing while working.
To avoid neck strain while working on a laptop, make sure your desk isn't positioned too low or consider propping your laptop on a box. In addition to neck strain, excessively staring at your computer screen can cause eyestrain and headaches. To avoid these common work-from-home foes, incorporate natural light into your work area. Not only has this been known to help reduce eyestrain and headaches, but it can also increase work productivity and creativity.
Optimize organizational space
Desk organization is another asset to help maximize your work productivity. When it comes to home office organization, creativity is key. Using coffee mugs or mason jars to hold pens and pencils is a great way to help declutter your desk space in an aesthetically interesting way. Another great organizational tool is your wall. You can hang up your calendar, tape up important reminders, and even put up a whiteboard if you have one. Wall space is also great for personalizing your 'cubicle.' Hanging up pictures, inspiring quotes, or future goals are all good ways to keep your work-from-home brain energized and inspired.
If you're ready to invest in home office organization, consider mounting floating shelves, buying a new office desk, installing a home office cabinet, or even renovating your house to create a more permanent home office.
Give your home office an upgrade
If you do choose to renovate, your office would ideally have neutral colored walls, which are known to help enhance focus. Instead of a small whiteboard, you could install a floor-to-ceiling whiteboard for optimal planning space. You could also consider installing floor to ceiling bookshelves to utilize the wall space more efficiently and declutter your desk.
One way to pay for your renovation is through a cash-out refinance. A cash-out refinance replaces your old mortgage to a higher loan amount and then cashes out the difference. Most real estate professionals recommend reinvesting the cash in something like a home renovation, so you add to the value of your home.
Working from home is a relatively new addition to the work landscape. While it may be hard to adjust to at first, with the right workspace, it can offer many benefits. Investing more in a home office now could save you time, gas, and money in the future. For more information on how to save money with a cash-out refinance or other loans, let us know and we'd be happy to talk.
Sources: Zillow